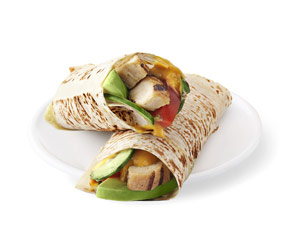 COOKING FOR CHOLESTEROL:
Avocado has the power to boost "good" HDL cholesterol while, at the same time, lowering "bad" LDL cholesterol. Try this recipe loaded with cholesterol-healthy ingredients that are all good for the brain.
---
Yield: 2 Servings
Ingredients
Directions
Add tomato, avocado, lemon juice, hot pepper sauce, salt, and pepper.
Process to coarsely chop, leaving chunks of avocado.
Roll up each tortilla, cut in half, and serve.
Nutrition Info
Per serving (½ of recipe):
423 Calories | 16g Fat | 72mg Cholesterol | 309mg Sodium | 35g Carbs | 5g Dietary Fiber | 4g Sugars | 34g Protein
Diabetic exchanges: 2 Starch | 3 Very Lean Meat | 1 Vegetable | 3 Fat
SEE MORE ON CHOLESTEROL & ALZHEIMER'S:

Contributed by Healthy Recipes For diabetic Friends Y-Group

Source: Mix 'n Match Meals in Minutes for People with Diabetes